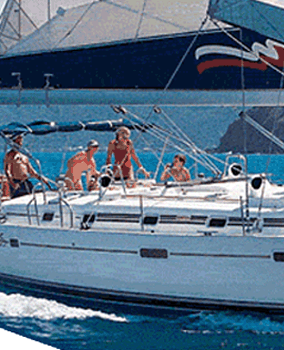 (A Bareboat Charter is a charter without a hired captain or crew). The goal of many sailors is to have the skills necessary to charter a large sailing vessel with family and friends without having to also hire a professional captain as well. That is the goal of the Bareboat Charter Course.

Course Description
The goal of this course is to prepare the student to Bareboat Charter a 40' to 50' yacht with inboard auxiliary power in moderate to strong wind conditions. This course opens the door to the world of tropical destinations by providing the skills needed to sail larger vessels on extended passages. Bareboat Charter Prep is taught aboard a beautiful 40 foot Hanse Yacht with a maximum of 6 students per class. A.S.A. Bareboat Charter Certification is awarded upon successful completion of the written and practical exams which are included.
Course Format
Bareboat Charter Prep consists of one three hour classroom session from 6:30 p.m. to 9:30 p.m. on a Monday evening covering navigation and course plotting plus two full days of sailing (Saturday and Sunday) from 9:00 a.m. to 4:00 p.m. each day. The A.S.A. Certification Exam is given on Sunday at 4:00 p.m. after sailing.
Course Includes
Bareboat Cruising Textbook
All Course Materials
Parallel Rules, Dividers, Chart
A.S.A. Bareboat Charter Certification Exam
Topics Include
Advanced Sail Trim
Diesel Engine Operation
Motoring
Docking
Anchoring
Fueling
Cruise Planning
Provisioning
Galley Procedures
Advanced Coastal Navigation
Onboard Electrical System
Onboard Water System
Course Dates
SECTION A
MAY 1, 13 & 14
SECTION B
MAY 1, 27 & 28
SECTION C
MAY 15, JUNE 10 & 11
SECTION D
MAY 15, JUNE 24 & 25
SECTION E
JUNE 26, JULY 8 & 9
SECTION F
JUNE 26, JULY 22 & 23
SECTION G
JULY 24, 29 & 30
SECTION H
JULY 24, SEPT. 9 & 10
SECTION I
TUESDAY SEPT. 5, 23 & 24
SECTION J
TUESDAY SEPT. 5, Oct. 7 & 8
SECTION K
OCT. 2, 21 & 22
Price: $695 or $995 with Coastal Cruising Combo (Two Certifications)
$100 For Basic Keelboat Certification if needed
Prerequisite: A.S.A. Coastal Cruising certification or equivalent experience

The Bareboat Charter Course Is also Offered In The British Virgin Islands on our B.V.I. Flotilla when a minimum of 6 students register
Call (908) 489-0589 For Details
Register Now