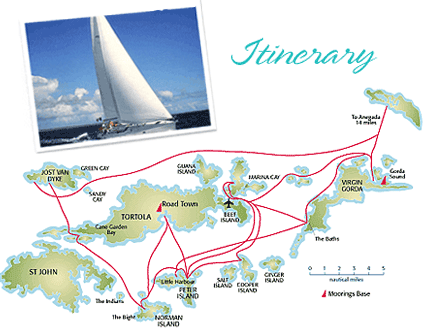 Day I - Saturday
Travel day, Arrive Tortola
Stow Gear, Provision Yachts, Yacht Orientation
Swim in Pool, Welcome Cocktails at Poolside
Dinner on your own
Rendezvous at "Cabernet Pub" for cocktails
Day II - Sunday
Breakfast - Skippers Meeting
Sail to The Indians & The Caves to Snorkel, Swim, Explore
Lunch Aboard
Sail to The Bight at Norman Island
Dinner at The Pirate's Bight
Nightlife at The Willy - T Floating Schooner Bar
Day III - Monday
Breakfast - Skippers Meeting
Sail to Scrub Island Resort
Lunch Aboard
Cocktails at Poolside
Snorkeling on Reef
Dinner Aboard
Day IV - Tuesday
Breakfast
Early morning departure for Virgin Gorda
Snorkel, Explore the Natural Wonder of "The Baths"
Lunch Aboard
Swimming at Silver Bay / Dinner at Coco Maya Beach Club
Day V - Wednesday
Breakfast – Skippers Meeting
Sail to Virgin Gorda's North Sound and The Bitter End Yacht Club
Hobie Cat Races
Dinner at Saba Rock Resort
Day VI - Thursday
Breakfast – Skippers Meeting
Depart on Open Ocena Sail to Anegada "The Drowned ISland"
Swimming at Loblolly Bay
Dinner - Lobsterfest Beach Party with Dancing in the Sand at Anegada Reef Hotel
Day VII - Friday
Breakfast - Skippers Meeting
Sail to Jost van Dyke the home of The "Foxy Mon"!
Beach Day with Painkiller's at The Soggy Dollar Bar!
Dinner at Foxy's!
Day VIII - Saturday
Breakfast
Sail Back to Tortola, Yacht Check in
Swimming and Lunch at Poolside
Ferry to St. Thomas / Transfer to Airport for trip back to Reality!